Rosario Galang

Name
Rosario Galang
Nickname/s
The New She-Ra
Portrayed by
Erich Gonzales
Personal Info
Race
Human
Gender
Female
Occupation
Kapatiran member
Rosario Galang is a deuteragonist of the 2013 Filipino titular series, Juan Dela Cruz and its midquel My Little Juan. she was Juan Dela Cruz's childhood friend and love interest.
As a baby Rosario's real father Pepe brought her to her wife's friends Cora and Ben Galang, resulting her to grow up with deep hatred for her real parents for abandoning her, As a child Rosario grew up fully aware of her adoptive status, after overhearing her adopted parents talking about her, at first Rosario tried to rebel but after making friends and learning her lesson with Juan, she decides to go back and learn to love her adoptive parents
Personality

Edit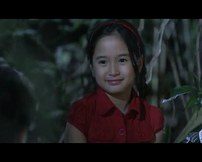 As a child Rosario was describe to be rude and arrogant that she can take anything all by herself, but after making friends with Juan, she became deeply cared for her adoptive parents, fully aware of her adoptive status Rosario grew up with a fear of being abandoned again thinking that she was abandoned by her real parents, knowing that fact she thinks that Juan might be just playing with her emotions, but after learning about his mission as a Tagabantay Rosario answered Juan's love devotion,
After learning that Pepe is her real father, she became angry at him for abandoning her, but after learning the truth she eventually found her real self where she truly belongs and became caring to her real father, after Pepe's death Rosario joins the Kapatiran to avenge her real parents and to continue her father's quest to kill the Haring Aswang.