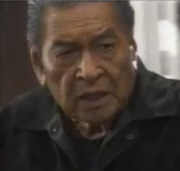 Julian "Jules" Dela Cruz
, is
Juan
's grandfather and was a former Tagabantay of the Bakal Na Krus. He currently works with Juan and the
Kapatiran
. Julian was not aware that
Amelia
had a son, named Juan and was happy to know that he had a grandson. One of his regrets in life is that he killed his wife when the latter was turned into an aswang. He became the leader of the Kapatiran after the death of
Pepe
. He was deposed as leader of the Kapatiran by
Agustin
and loyal members of the Kapatiran after Agustin accused Julian of betraying the organization's cause by caring for Juan, who is also the Anak ng Dilim.
Preceded by

Unknown

Next Known: Datu Bangaraw

Tagabantay

Julian Dela Cruz

Succeeded by
Ad blocker interference detected!
Wikia is a free-to-use site that makes money from advertising. We have a modified experience for viewers using ad blockers

Wikia is not accessible if you've made further modifications. Remove the custom ad blocker rule(s) and the page will load as expected.