This is the official continuation of the concluded TV series Juan Dela Cruz. You can read the story on wattpad, check out this link [1]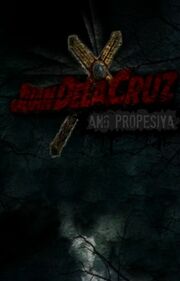 After his long fought battle to the aswang clan and Peru-Ha, Juan had been living a normal life since then. Not until a mysterious cult group of evil entiities begins to make its move Juan was forced to heed the call of becoming the tagabantay once again and is set for a darker path this time.  He soon discovered that he is the child of prophecy, the living key for the fulfillment of the prophecy of the sinister cult. Juan and other tagabantay along with The Kapatiran, with the help of engkanto and diwata, goes on a journey to stop the cult's evil plans. They must face the greatest enemy, humanity and the engkanto world has ever known. And as the war begins, Juan has his own battle within himself he needs to win. To stop the awakening of his alter-ego, redirect the direction of his fate and to change his destiny as the fulfillment of the prophecy that will end the world.​
Ad blocker interference detected!
Wikia is a free-to-use site that makes money from advertising. We have a modified experience for viewers using ad blockers

Wikia is not accessible if you've made further modifications. Remove the custom ad blocker rule(s) and the page will load as expected.