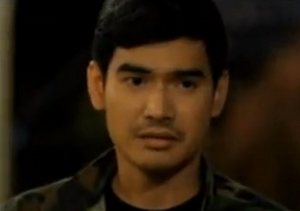 Agustin Magdiwang
 was a member of the
Kapatiran
and was an informant of the organization and the right-hand man of
Pepe
. At first, he doubted
Juan
's ability as the Tagabantay and even suspicious of him when the latter begins displaying traits only aswangs possess. He vowed that Pepe's sacrifice death will not be in vain. Later it was revealed that he was initially chosen by the members as the new leader of the Kapatiran after Pepe's death. He told them that a last phone call from Pepe before he was abducted, that in the event of Pepe's demise, he would like to have
Julian
, Juan's grandfather to be his successor as the leader of the Kapatiran. Agustin later took away Julian's leadership of the group, believing that Julian has betrayed the cause of their organization by favoring Juan, the Anak ng Dilim. He harbored deep hatred towards Juan, who he believes is the root of the problems of the Kapatiran. He died at the hands of Samuel Alejandro and apologized to Julian for harboring ill feelings towards Julian and his grandson.
Ad blocker interference detected!
Wikia is a free-to-use site that makes money from advertising. We have a modified experience for viewers using ad blockers

Wikia is not accessible if you've made further modifications. Remove the custom ad blocker rule(s) and the page will load as expected.